Title X Family Planning
Family Planning helps you and your family
What is Title X Family Planning?
The Title X Family Planning program ["Population Research and Voluntary Family Planning Programs" (Public Law 91-572)], was enacted in 1970 as Title X of the Public Health Service Act. Title X is the only federal grant program dedicated solely to providing individuals with comprehensive family planning and related preventive health services. The program is designed to provide access to contraceptive services, supplies and information to all who want and need them. By law, priority is given to persons from low-income families. Learn more at http://www.hhs.gov/opa/familyplanning/index.html
Who is Eligible?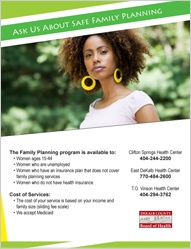 Women ages 15-44
Women who are unemployed
Women who have an insurance plan that does not cover family planning services
Women who do not have health insurance
Family Planning helps you – and your family.
You have control over when a pregnancy happens.
You have children when you are ready.
More control over the future can help a couple's relationship.
If you don't want to become pregnant, family planning can help you make wise choices.
If you do want to become pregnant, family planning can help you reach your goals.
A planned pregnancy can mean better health during pregnancy and better infant health.
Services
Our low cost and confidential services include:
Physical Exam, including Pap Test and Clinical Breast Exam
Family Planning Counseling and Education
Birth Control Supplies
Testing for Sexually Transmitted Diseases
HIV Counseling and testing
Pregnancy Testing
Emergency Contraception (Plan B)
Sterilization Counseling, Education and Referral (Tubal Ligation and Vasectomy)
Preconceptional Counseling (Planning Your Pregnancy)
Cost of services:
The cost of your service is based on your income and family size (sliding fee scale). Title X family planning fees are often less than at other health care providers. Payment is requested at the time of your visit. No one is denied services because of inability to pay. We accept cash, checks (no out of state), and Medicaid
Family Planning centers include:
Helpful links: