DeKalb County Mobile COVID-19 Vaccination Clinics: 
Safer. Healthier. Together.
The DeKalb County Board of Health and DeKalb County government are partnering to bring mobile COVID-19 vaccination clinics to communities throughout DeKalb County, Georgia.
Do you want more information? Click an option below:
Visit or host a mobile COVID-19 vaccination clinic:
All Georgians ages 12 and older can now get a COVID-19 vaccine.
Getting a COVID-19 vaccine will help keep you and your family safe and healthy.
All COVID-19 vaccines are free.
You don't need an appointment, ID, proof of citizenship or health insurance.
A parent or guardian must accompany their 12 - 17-year-old.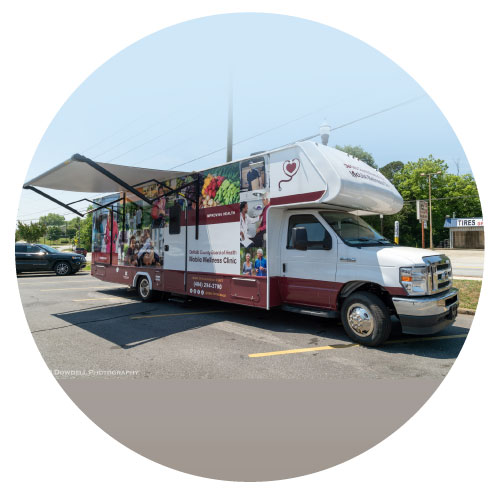 July 2021
Sun

Sunday

Mon

Monday

Tue

Tuesday

Wed

Wednesday

Thu

Thursday

Fri

Friday

Sat

Saturday

June 27, 2021

June 28, 2021

June 29, 2021

June 30, 2021

South DeKalb Senior Center,
1931 Candler Rd,
Decatur, Ga. 30032

July 1, 2021

July 2, 2021

July 3, 2021

July 4, 2021

July 5, 2021

July 6, 2021

July 7, 2021

July 8, 2021

DeKalb County Board of Health Tucker WIC Clinic,

4394 Hugh Howell Road Ste. #1 & #2,

Tucker, GA 30084

July 9, 2021

July 10, 2021

July 11, 2021

July 12, 2021

July 13, 2021

July 14, 2021

July 15, 2021

The Barber Shop Atlanta Salon,

NorthDeKalb Mall,

2050 Lawrenceville Highway,
Decatur, GA 30033

July 16, 2021

July 17, 2021

The Bridge at Austin Community Center,

1989 Austin Drive,

Decatur, GA 30032

July 18, 2021

Kingdom Life Christian Center,

2360 Mellon Ct,
Decatur, GA 30035

July 19, 2021

July 20, 2021

July 21, 2021

Bible Way Ministries, Intl.,
894 Constitution Rd SE, 
Atlanta, GA 30315

July 22, 2021

July 23, 2021

July 24, 2021

July 25, 2021

July 26, 2021

July 27, 2021

July 28, 2021

Ronald E. McNair Discovery Learning Academy,
2162 Second Ave,
Decatur, GA 30032

Bible Way Ministries, Intl.,
894 Constitution Rd SE, 
Atlanta, GA 30315

July 29, 2021

July 30, 2021

July 31, 2021